Coalbrook Mynramp
21 Januarie 1960
Suid van Sasolburg
In 1961 is Coalbrook myn gesluit na nog ñ verskuiwing in aardlae(strata).
Dorpie se naam waar monumentjie opgerig is se naam was Clydesdale maar in 1996 opgekoop deur ñ Taiwan Sakeman en herdoop na Holly Country.
Toe die Taaibos Kragstasie in 1990 gesluit is is alle steenkool mynbedrywighede in area gestaak.
GESKIEDENIS: COALBROOK MYNRAMP Dalene Nelson
Die grootste mynramp in Suid Afrika se geskiedenis het plaasgevind op 21 Januarie 1960 by die Clydesdaleskag van die die Coalbrookmyn naby Sasolburg. Om ongeveer 16:20 die Donderdagmiddag het die "dak" van een van die noordelike skagte ineengestort en 'n tweede ineenstorting het om 19:30 plaasgevind. Coalbrook het die steenkool voorsien aan die nuut-geboude Taaibos kragstasie by Kragbron.
Vasgekeerde mynwerkers in die oostelike gedeelte was in lewensgevaar, want al was dit twee kilometer van die vertikale skag is die lugdruk verhoog en die hooflugreelaar was buite werking wat daartoe gelei het dat metaangas in die skagte opgebou het. Stutpilare oor 'n gebied van sowat 324 hektaar het geknak onder die ingesakte gedeeltes.
Gedurende die volgende elf dae sou reddingspanne onverpoosd werk om die 435 vasgekeerde myners 180m ondergronds te probeer bevry. Gate is geboor bokant die seksies waar die mynwerkers vasgekeer was en mikrofone laat sak, maar geen kommunikasie kon bewerkstellig word nie. Die myntonnels het gewissel van 6,1m tot 6,7m breed.
Die Clydesdale (Transvaal) Collieries Co Ltd was die eienaars van die myn en George Dixon was die hoof uitvoerende beampte. Die salvation Army het dadelik 'n sopkombuis begin vir die vroue en families van die die vasgekeerde myners.
Swart myners wat in die kampongs was het begin met massa-aksie en kolonel At Spengler van die veiligheidspolisie moes hulle weghou van die rampgebied om reddingspanne toegang te gee. 'n Telex-masjien is in een mynkantoor geinstalleer om onmiddelike kommunikasie met Pretoria en Johannesburg te versnel.
Selfs in Brittanje het die Minister CJM Alport 'n mosie van rou by die Parlement ingestel. Hulle het egter aanvaar dat 10 000 pond net aan die naasbestaandes van die mynwerkers van Lesotho (219) oorbetaal.
Dit het geblyk dat die 435 vasgekeerde mynwerkers probeer vlug het na Seksie 10 aan die suidelike kant van die skag met die ineenstorting. Vir drie dae na die storting is daar gereeld geluide gehoor soos nog seksies inmekaarstort. Die myn se algemene bestuurder en veiligheidsbeampte het een oorlewende mynwerker gevind in Seksie 4. Geeneen van die vasgekeerde mynwerkers kon gered word of na die oppervlak gebring word nie en na elf dae is die reddingsaksie gestaak toe daar besef is dat daar geen oorlewendes kan wees nie.
Eerste gedenksteen is by wat vandag bekend staan as Holly Country opgerig.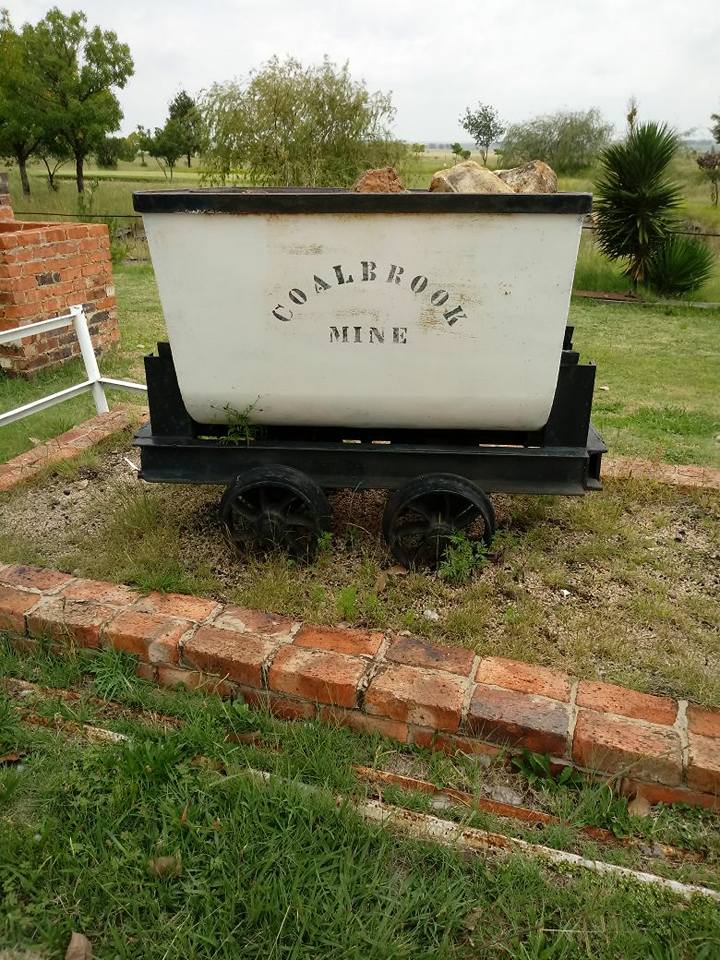 Tweede gedenkstene in 'n amfiteater is buite Holly Country later opgerig.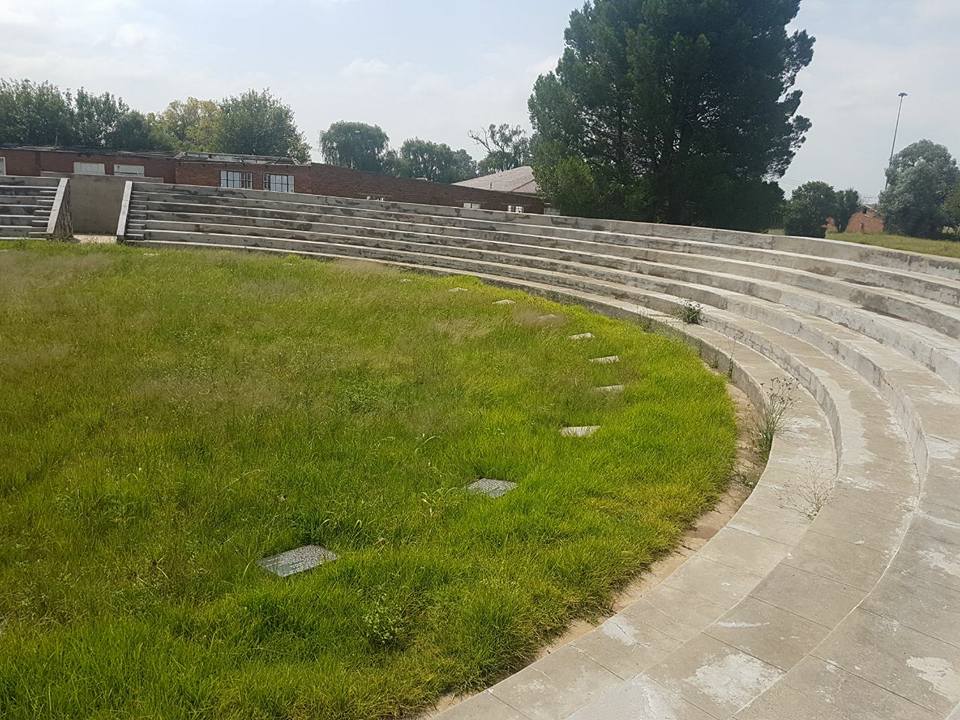 Coalbrook Mynramp
Na baie jare se beplanning is amfiteater opgerig ter ere van die 437 mynwerkers wat lewendig begrawe is in ineengestorte myn.Dit is fase 1 in samewerking van Metsimaholo munisipaliteit, Dept van Minerale Sake en Health and Safety.
Daar is reeds groot omstredenheid en groot foute gemaak:
Swak vakmanskap veroorsaak dat eerste krake reeds 1 week na oprigting verskyn.
Terrein is waar mynwerkers bymekaar gekom het en nie waar tragedie plaasgevind het nie.
Gruwelike foute in bewoording van gedenkplate oa area val nie binne ou Transvaal nie.
Meeste werkers was nie afkomstig van Lesotho en Mosambiek nie.
Heritage Portal: Article Author: Horst Müller Thursday, June 14, 2018 – 20:33
About the author: Horst originated from Germany many years ago. He has spent a lifetime working for some of the major chemical companies. Throughout his life he has had an interest in local history and has now, in retirement, made this his major hobby. He believes in not just doing the exploration and research but to also write down his findings. Check out his website here. Horst is a regular contributor to The Heritage Portal.
The 1960 Coalbrook Disaster
On the 21 January 1960 a major calamity befell the coal mine at Coalbrook, situated in the Northern Free State 21km south west of Vereeniging. 437 miners were buried alive 180 meters below the surface when an estimated 900 pillars collapsed. A major rescue effort was undertaken, unfortunately without any positive results.
This article covers the history of the coal mine, the events leading up to the disaster, the causes, the aftermath and what we find there today.
The Mine
The first shaft was sunk in 1904 to a depth of 437 feet, the company was the The Clydesdale (Transvaal) Collieries Company Ltd. Production commenced in March 1905 at a rate of 12 000 tons per annum. Production increased over the years reaching 500 000 tons by 1950.
A step-up in production came with the construction of the Taaibos power station and after that also the Highveld power station on a property near the mine. The first turbine at Taaibos was commissioned in December 1954. Other units followed, and by 1958 all six units at this station were producing power. The next station was constructed adjacent to Taaibos and was named Highveld power station. It had a capacity of 480 MW. The first turbine set of that station was commissioned during 1959. The boilers of both these stations were designed for lower quality coal.
The coal seam (No 2 seam on the sketch) extracted by the mine was of about 6m thickness, but this was only mined to 2.4m height. The material above that was of lower quality and of no interest to the market served at the time. In 1948 the mine had already been experimenting with extracting coal from higher up in the strata by raising the height to 3.7m. The term used for this was 'top coaling'. Top coaling was started again in 1951 to supply the new power station. Later the height was further increased to 4.5m.
The Disaster
On the 28 December 1959 a collapse occurred in the northern part of the mine (section 10), which included the area where the top coaling experiment was done. That collapse was arrested by a barrier wall to the south. Coal extraction from the south end of the section was not affected.
An inspector of mines came on a routine inspection two weeks later. He was not informed about the collapse.
At approximately 16h00 on 21 January 1960 miners in a section just west of the collapsed area heard shot-like noises and felt a strong blast wind. The area was evacuated and the mine manager informed. Miners from the area just south also heard the noises and withdrew.
The acting mine manager and overseer entered the mine to inspect. Some of the ventilation piping had been damaged. At the same time it was reported that there was a subsidence on the surface of section 10. It was concluded that the 'weight had come off' and it was time to send in a repair team.
Production in the south-eastern section was not affected and mining there carried on uninterrupted.
The repair team working on the ventilation piping became aware of thundering noises at just after 19h00 and withdrew to a safe area. On the way they were overtaken by a hurricane of dust and more noises. A general exodus from the mine ensued.
It was later noticed that not a single miner from the south east side of section 10 had come out and it had to be assumed that they were trapped.
The Rescue Effort
Rescue was attempted from above and below. Proto teams entered the mine in an attempt to find a way through to the trapped miners. This proved to be very dangerous due to high concentrations of methane and carbon monoxide and from the still unstable rock. The proto teams experienced instability, falling rocks and water.
The alternative to digging through from the bottom was to drill down from the surface. Anglo American offered their new drill rig that had recently been installed at Ellisras. It was transported by road and arrived three days after the event. It was equipped with a 13½ inch (340mm) drill point. It started operating on the 24 of January and made good progress until it met the dolerite strata. Dolerite is a very hard lava rock. Progress slowed down, it was reported that on one day the drill only managed 15 feet (5m). The rock also caused severe wear on the drill bits requiring it to be changed frequently. A new supply of drill bits had to be flown in from Texas.
Two more drill rigs arrived at the site on the 29th, drilling in close vicinity to the Anglo drill rig, which is where the trapped miners were believed to be situated.
The Anglo drill penetrated to a depth of 515 feet (160m). When it got into an open space, a microphone was sent down, but picked up only the sound of dripping water.
Parallel to the drilling there was also a team of shaft sinkers to dig a rescue shaft. They had dug down to a depth of 150 feet by the time the rescue effort was called off. The top end of the shaft was later sealed off with an apron of concrete (see picture).
The Aftermath
Mining was resumed on the 18 March in the non affected areas. By March 1961 the mine was supplying ¾ of the requirements for the two power stations. And then in March 1961 another shift in the strata occurred. As a consequence of that, mining from the North shaft was abandoned. Coalbrook South which had been sunk to supply the new Highveld power station continued producing until 1990. Another area was developed from the East shaft, which was situated next to the Heilbron Road
The Reminders
For many years after the event nothing was put up as a memorial. In 1996, after the closure of Coalbrook South, the village and the workshops were bought by Richard Hse. He agreed to have a memorial erected. Using one of the coal cutters from the mine serving as a backdrop to an inscription on a stone plaque which reads:
IN MEMORY OF THOSE 435
MINERS WHO LOST THEIR LIVES
IN THE COALBROOK-MINE DISASTER
ON 21-01-1960
"AFTER ALL THOSE YEARS YOU ARE
STILL IN OUR HEARTS AND THOUGHTS"
The new and latest monument is far larger. It is in the form of an amphitheatre, situated where the South shaft used to be. All 437 names are engraved on stones placed around the inside perimeter and two stone tablets at the entrance commemorating the event. A criticism I have is the Ellen Tauscher quote on the stone: 'Our hearts go out to the victims of the coalbrook mining disaster tragedy and their families. This disaster will go down in the history of books as one of the largest mine disasters in South Africa. (Ellen Tauscher)'.
llen Tauscher an American politician said the following after Hurricane Katrina struck the American Midwest in 2005: 'My heart goes out to victims and survivors of the Hurricane Katrina tragedy and to their families. This disaster will go down in history books as one of the largest natural disasters in U.S. History.'
I also have a problem with the falsified quote which said: 'one of the largest mine disasters in South Africa', it should be 'the largest mine disaster'. I could nitpick a bit more, but will leave it at that.
Another monument has been partially constructed at the site of the East Shaft. On the topographic map it is called the Birmingham Shaft. It is next to the road (west) of the Sasolburg Heilbron road and not far from the rescue shaft. That is probably the reason why the memorial was going to be erected here. A pathway has been laid and some walls constructed, but otherwise nothing further has been done. Missing are the inscriptions of what this monument is all about.
References ; 'The Orange Free State – its pastoral, agricultural and industrial resources', compiled by Somerset Playne, printed by the foreign and colonial, compiling and publishing company, 1912
J.N. van der Merwe, 'Beyond Coalbrook: what did we really learn?', published in The Journal of The Southern African Institute of Mining and Metallurgy, Dec 2006 Prof Nielen van der Merwe, Lessons from coalbrook, presentation to SACMA 22 August 2013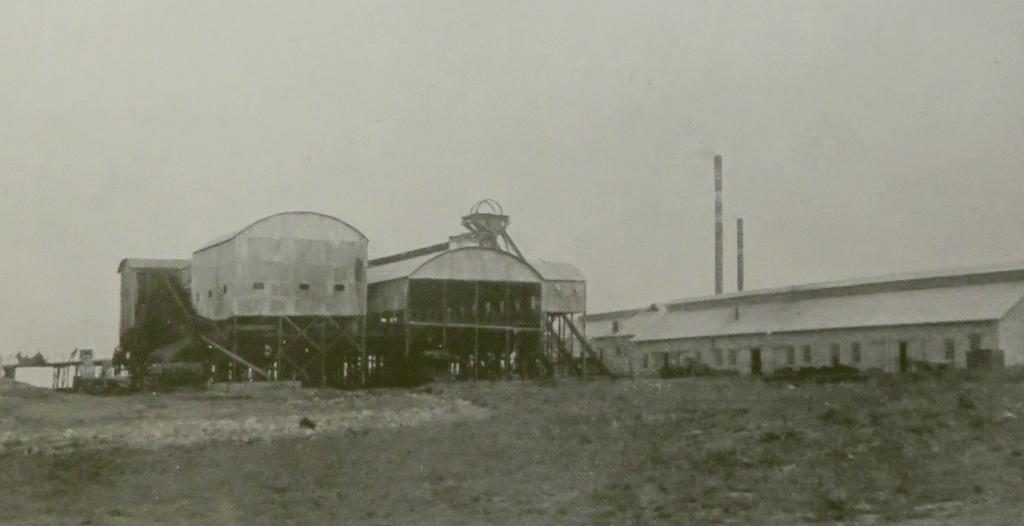 A few explanations to the map. The grey area is the mine served from the North Shaft at the time of the disaster. North Shaft was a twin shaft, what was called an up and a down shaft. These shafts are completely covered and just marked by two stones, one of them at 26.8959ºS and 27.914ºE. The East Shaft was sunk at a date after the disaster, it is near where the rescue shaft was. It is also completely covered now. It is the site of another monument, not completed yet, position 26.9094ºS 27.9375ºE. The rescue shaft was started and never finished and is now covered with concrete, position 26.9068ºS and 27.9379ºE. One of the boreholes, referred to as No 1 was penetrated by the 'Anglo Drill', position 26.9013ºS and 27.9443ºE. 5